WaPo going ballistic on Oh-Man?
Get me outta here.
…and I am Sid Harth@webworldismyoyster.com
I have written extensively on the disturbing events in the Middle East for good two years. While doing so, I had to access most all public posturing, pontification of the entrenched politicians, PR men, working for them, sundry chatter, editorials, policy papers and pronouncements from the administration and their friends in media and few foes.
It all sums up in my following heading, already published and duly acknowledged by Google.
Search page rank #1.
Oh-Man, Middle East Muddle, Oops, Puddle and I@webworldismyoyster.com

SAMAN MOHAMMADI
The Excavator
Sunday, June 10, 2012
In Syria, the U.S. and Israel are sponsoring Jihadist terrorists to destroy the unity of Syria and bring down the current Syrian government. As a result, the moral and intellectual arguments for the U.S.-led war on terror are being exposed as propaganda talking points that have no logical connections to the real world.
The U.S. and Israeli governments cannot be taken seriously when they try to sell to the world the lie that Islamic terrorism is a threat to Western civilization while it is secretly funding and arming Sunni terrorists to wage war against governments that they don't like.
We don't have to point to the false flag 9/11 events as an example of state-sponsored terrorism by the U.S. and Israeli governments. There is endless evidence in Syria that points to a coordinated policy of state-sponsored terrorism against the Syrian people by Washington and Tel Aviv.
Washington's alliance with Jihadist terrorists is coming out into the daylight in Syria, Libya, and other nations that have experienced the CIA's "Arab Spring." Rob Prince wrote an excellent article on June 3rd about this unholy alliance called, "Tunisia's Salafists: Brownshirts of the Arab Spring." Prince said:
"The British and the U.S. prefer the more placid and 'west-oriented' face of 'moderate Islamic parties' like Tunisia's Ennahda which claims to respect democratic processes. But when necessary, London and Washington have not hesitated to cooperate with more fanatical elements — be they Saudi Wahhabists or now Syrian jihadists. Besides the anti-Arab secular nationalist bond that unites U.S. foreign policy with Islamists, there is a bond of another kind: they see eye to eye economically. The Moslem Brotherhoods in Egypt, Ennahda in Tunisia, and Salafists throughout the region are all comfortable with and support the kind of neoliberal economic policies the United States and Europe pursue. They have opposed trade union rights, strong state-directed economic policies. When it comes to neoliberal economics, openness to foreign corporate and financial penetration, the Islamists and U.S. policymakers are in complete harmony."
The U.S.-Israeli-Jihadist war against Syria has produced a humanitarian crisis that the Western media is deliberately and criminally misrepresentingto the world. It is now clear beyond any shadow of a doubt that the guilty party in the Houla massacre was the foreign-armed Syrian opposition.
There is dissent within the loosely assembled, highly unpopular, and murderous opposition, with the more moral members breaking ranks and admitting to a German reporter named Rainer Hermann that their bloodthirsty partners were responsible for the Houla massacre.
The U.S. and its allies have used the Houla massacre as an excuse to apply pressure on the Syrian government at the United Nations. They have wrongly accused Russia of shielding Assad from retribution and going against the international community. French journalist Thierry Meyssan wrote about this angle of the conflict in his article, "Syria: What the Security Council Said."
Also, watch historian Webster Tarpley take Ban Ki-moon and Kofi Annan to task for their despicable and criminal behaviour as it relates to the Syrian conflict. Tarpley calls them, "two of the greatest liars and imperialist tools of the age."
II. Will The Wise Prevail, Or Will Irrational Aggression Once Again Rule The Day?
If the U.S., Israel, and Saudi Arabia are allowed by the international community to continue their illegal war against Syria then the entire Middle East will explode. Wiser heads in the West and the East must prevail.
Zbigniew Brzezinski is one of the few American geopolitical thinkers to provide a wise, sober, and honest assessment of the conflict in Syria and the hidden forces at work behind the scenes. On MSNBC's Morning Joe program on May 30, 2012, Brzezinski cautioned that America should not react with emotion to what is going on in Syria. He said that there is no sign of a widespread national uprising against the Syrian government, and that isolating Russia because of its stance on the Syrian crisis is impossible.
The Russian Foreign Minister Sergey Lavrov said in a press conference in Moscow on Saturday, June 9, that Russia will not support a military intervention in Syria. The delusional and dishonest Western media will spin his remarks as a blanket endorsement of the Assad government.
In an editorial on Friday, June 8, called, "Assad, the Butcher," the New York Times said:
"With every new atrocity, calls for military action grow. We understand the desire to protect innocents. Intervention would be costly and could widen the war. The best hope of avoiding that is for the Security Council to impose comprehensive punishments — and for Russia, China and Iran to stop enabling Mr. Assad's savagery."
The New York Times knows a thing or two about covering up acts of savagery, having covered up the most savage act of state terrorism in history that was committed by the shadow governments in Washington and Tel Aviv on September 11, 2001.
If the editors of the New York Times are so concerned about stopping human suffering and government savagery, they should start at home, not in Syria.

Print this page.
6 Responses to "U.S. And Israel Enlist Jihadist Terrorists To Bring Down Syria"
Leave a Reply
China says G-20 summit not the place for discussions on unrest in Syria
By Associated Press, Updated: Monday, June 11, 1:38 AM
BEIJING — The unrest in Syria shouldn't be on the agenda at the upcoming G-20 Summit in Mexico because the meeting needs to stay focused on global economic issues, including the European debt crisis, a top Chinese diplomat said Monday.Syrian activists estimate more than 13,000 people have died since an uprising erupted 15 months ago. For months, the U.S. and its European allies have tried unsuccessfully to take UN action against Syria, but Russia and China, Syria's main allies, have vetoed two Security Council resolutions that threatened possible sanctions.
Russia and China issued a joint statement after a summit in Beijing last week, saying they also opposed any outside military interference or forceful imposition of "regime change" in Syria.China's Vice Foreign Minister Cui Tiankai told reporters at a briefing Monday that although there is intense global concern about the crisis in Syria, the G-20 Summit isn't the appropriate place to discuss it."The situation in Syria is of concern to everyone globally, however the G-20 is a platform for global economic governance and so far we haven't seen political and security issues on the agenda of the G-20," said Cui. "I think that is the proper arrangement."
Cui also said Beijing will use the summit to press the interests of developing countries like itself but acknowledged American and European financial problems, such as the EU debt crisis, inevitably dominate discussions at G-20 meetings because of the size and influence of their economies.
Cui said China believes "more attention should be paid to the needs of developing countries" and will continue to press those concerns this year.
But he added that "the international community has a keen interest in whether developed countries will resolve their problems in a responsible way and in turn improve the economic outlook of the world."
Copyright 2012 The Associated Press. All rights reserved. This material may not be published, broadcast, rewritten or redistributed.
The Post's Foreign Bureaus
Your Friends' Most Recent Activity
Asia/PacificIn Philippines, banana growers feel effect of South China Sea dispute

WorldKarzai: U.S. failed to consult Afghans on airstrike

Asia/PacificIn Japan, fax machines remain important because of language and culture

WorldDeepening the ties between the U.S. and India

Asia/PacificGen. John Allen apologizes for civilians killed in airstrike in Afghanistan
Deputy Editorial Page Editor
Obama's Iran and Syria muddle
From one point of view the connection between our troubles with Syria and Iran is pretty straightforward. The Syrian regime of Bashar al-Assad is Iran's closest ally, and its link to the Arab Middle East. Syria has provided the land bridge for
the transport of Iranian weapons and militants
to Lebanon and the Gaza Strip. Without Syria, Iran's pretensions to regional hegemony, and its ability to challenge Israel, would be crippled.It follows that, as the U.S. Central Command chief Gen.
James N. Mattis
testified to Congress
in March, the downfall of Assad would be "the biggest strategic setback for Iran in 25 years." Making it happen is not just a humanitarian imperative after the slaughter of more than
10,000 civilians
, but a prime strategic interest of Israel and the United States.
So why are both the Obama administration and the government of Benjamin Netanyahu unethusiastic — to say the least — about even indirect military intervention to topple Assad? In part it's because of
worry
about what would follow the dictator. In Obama's case, the U.S. presidential campaign, and his claim that
"the tide of war is receding"
in the Middle East, is a big factor.But the calculus about Syria and Iran is also more complicated than it looks at first. The two are not just linked by their alliance, but also by the fact that the United States and its allies have defined a distinct and urgent goal for each of them. In Syria, it is
to remove Assad and replace him with a democracy
; in Iran it is to prevent a nuclear weapon. It turns out that the steps that might achieve success in one theater only complicate Western strategy in the other.Take military action — a prime concern of Israel. Syria interventionists (such as
myself
) have been arguing that the United States and allies like Turkey should join in setting up safe zones for civilians and anti-Assad forces along Syria's borders, which would require air cover and maybe some (Turkish) troops. But if the United States gets involved in a military operation in Syria, would it still be feasible to carry out an air attack on Iran's nuclear facilities? What if Israel were to launch one while a Syria operation was still ongoing?The obvious answer is that the result could be an unmanageable mess — which is why, when I recently asked a senior Israeli official about a Western intervention in Syria, I got this answer: "We are concentrated on Iran. Anything that can create a distraction from Iran is not for the best."
Obama, of course, is eager to avoid military action in Iran in any case. But his strategy — striking a diplomatic bargain to stop the nuclear program — also narrows his options in Syria. A deal with Tehran will require the support of Russia, which happens to be hosting the next round of negotiations. Russia, in turn, is opposed to forcing Assad, a longtime client, from power by any means.
If Obama wants the support of Vladi­mir Putin on Iran, he may have to stick to Putin-approved measures on Syria. That leaves the administration at the mercy of Moscow: Obama is reduced to pleading with a stone-faced Putin to support a Syrian democracy, or angrily warning a cynically smirking Putin that Moscow is paving the way for a catastrophic sectarian war.
At the root of this trouble are confused and conflicting U.S. aims in the Middle East. Does Washington want to overthrow the brutal, hostile and closely allied dictatorships of Assad and Iran's Ali Khamenei — or strike bargains that contain the threats they pose? The answer is neither, and both: The Obama administration says it is seeking regime change in Syria, but in Iran it has defined the goal as rapproachment with the mullahs in exchange for nuclear arms control.
Obama tries to square this circle by pursuing a multilateral diplomatic approach to both countries. But if regime change in Syria is the goal, Security Council resolutions and six-point plans from the likes of Kofi Annan are doomed to failure. Only a combination of economic and military pressure, by Assad's opposition or outsiders, will cause his regime to fold.
A collapse, in turn, could undermine the same Iranian regime with which Obama is seeking a bargain. So it's no wonder Tehran sought to add Syria to the topics for discussion at the last session of negotiations — or that Annan wants to include Iran in a new "contact group" to broker a settlement in Syria.
The Obama administration rejected both proposals — because they are at odds with Syrian regime change. This muddle may delight Vladi­mir Putin, but it's not likely to achieve much else.
The Post Most: Opinions
Today's Opinions Poll
There are no discussions scheduled today.
Voice Your Opinions
Have a response to a piece in The Post?
Make an argument about a topic in the news.
Have questions about Post content or practices?
Rascals at  San Angelo Standard Times  censored my comment.
CLIFFORD MAY: If Assad is toppled, Iran loses and U.S. wins
Clifford D. May is president of the Foundation for the Defense of Democracies, a policy institute focusing on terrorism. Contact him at cliff@defenddemocracy.org.
Posted June 11, 2012 at 3 a.m.
SAN ANGELO, Texas — They say politics makes strange bedfellows. But even stranger are the bedfellows that national security policy makes.
Andrew C. McCarthy, a friend and colleague, provides a stunning example. In a National Review Online piece recently, he pointed out that by proposing American support for Syrians attempting to overthrow Bashar al-Assad, Mitt Romney and "the McCain wing of the Republican Party, and the rest of Washington's progressive, Islamophilic clerisy" are aligning with " al-Qaida emir Ayman al-Zawahiri and Muslim Brotherhood icon Yusuf al-Qaradawi."
Of course, it would be equally correct to point out that those opposing efforts to facilitate regime change in Syria are aligning with Vladimir Putin and Iranian Supreme Leader Ali Khamenei.
Within the loose coalition fighting Assad, there are freedom fighters — I'm personally acquainted with some. But, yes, Islamists are in the mix as well. Should Assad fall, who will end up on top?
We can't be certain, and that uncertainty lends weight to the anti-interventionist argument. As for humanitarian concerns, one can make the case that if the Arab League is unmoved by the massacres of Syrian women and children (their angry eyes fixed as ever on Israel), and the Organization of Islamic Cooperation doesn't give a fig about Muslims slaughtering Muslims (a minor annoyance compared with "Islamophobia"), why should we Americans expend an ounce of energy?
My answer to all the points above: Because Syria, under the Assad dictatorship, is Iran's most important ally and asset. And Iran is the single most important strategic threat facing the U.S. — hands down.
McCarthy observes that the "Iranian regime is not the only virulently anti-American revolutionary movement realistically threatening to enslave the Middle East in its version of totalitarian sharia and implacable anti-Semitism." True, but only one is within a hair's breadth of obtaining nuclear weapons.
In addition, Iran's rulers have long been the leading global sponsors of terrorism. They have facilitated the killings of Americans in Iraq and Afghanistan. Their acquisition of nuclear arms, if allowed to happen, will license even more audacious behavior.
Plan on this: They will threaten and perhaps lay claim to Kuwait, the United Arab Emirates and Bahrain (where the U.S. Fifth Fleet is based); attempt to control the Strait of Hormuz, essential to a global economy that continues to depend on Gulf oil; intervene more forcefully in Yemen; increase their influence in Iraq and Afghanistan; conspire against the Saudis; and, of course, hang a nuclear Sword of Damocles over Israel's head.
The War Against the West that began with Iran's 1979 revolution, from which sprang all the other modern Islamist and Jihadist movements (al-Qaida's included) will be won or lost — it cannot be resolved through "confidence building measures."
Understanding that ought to prompt us to ask: What is our war-fighting strategy? On which battlefields must we engage our enemies? Which battles must we win?
The answer should determine whether we provide material assistance to the Syrian opposition. And that's all we're talking about here: Those facing Assad's guns are not asking us to put boots on the ground. What they want are the means to defend themselves, assets that will give them a fighting chance.
Providing such assistance will give us a fighting chance to influence the opposition now, and the post-Assad environment later — though no guarantee.
Assad and his patrons in Tehran grasp that the Battle of Syria is hugely consequential. They know the fall of Assad would be a major blow to them.
By the same token, it will be a major blow to the West if, despite Washington's pronouncements and posturing, Khamenei, with assistance from the Kremlin, rescues and restores his most valued Arab bridgehead.
It is worth recalling: In World War II, we first fought the Germans not in Europe but in the remote deserts of North Africa, correctly perceived as a battlefield we could not afford to cede.
And in that conflict, we aligned with Soviet communists because, as President Franklin D. Roosevelt phrased it, he was willing to "hold hands with the devil" to defeat fascist ideologies and movements. Roosevelt was thinking strategically. He understood that national security policy makes such strange bedfellows — always has, always will.
© 2012 San Angelo Standard Times. All rights reserved. This material may not be published, broadcast, rewritten or redistributed.
Scripps Interactive Newspapers Group
2012 The E.W. Scripps Co.
More news from our local partners »
Privacy Policy
|
User Agreement
|
About Our Ads
Syria's Assads Turned to West for Glossy P.R.
Publis
For some journalists, Syria has been one of the least hospitable countries in the Middle East, a place where reporters — if they can get in — are routinely harassed and threatened as they try to uncover the repression that has propped up the Assad government for decades.
Rob Wallace/ABC
Barbara Walters questioned President Bashar al-Assad in 2011.
Follow @nytimesworld for international breaking news and headlines.
For other journalists, Syria has until recently been a country led by the cultivated, English-speaking President Bashar al-Assad who, along with his beautiful British-born wife, Asma, was helping usher in a new era of openness and prosperity.
That second impression is no accident. With the help of high-priced public relations advisers who had worked in the Clinton, Bush and Thatcher administrations, the president and his family have sought over the past five years to portray themselves in the Western media as accessible, progressive and even glamorous.
Magazines and online outlets have published complimentary features about the family, often focusing on fashion and celebrity. In March 2011, just as Mr. Assad and his security forces initiated a brutal crackdown on political opponents that has led to the death of an estimated 10,000 Syrians, Vogue magazine ran a flattering profile of the first lady, describing her as walking "a determined swath cut through space with a flash of red soles," a reference to her Christian Louboutin heels.
Fawning treatment of world leaders — particularly attractive Western-educated ones — is nothing new. But the Assads have been especially determined to burnish their image, and hired experts to do so. The family paid the Washington public relations firm Brown Lloyd James $5,000 a month to act as a liaison between Vogue and the first lady, according to the firm.
This web of politics and public relations ensnared Barbara Walters recently. After she conducted an aggressive interview with Mr. Assad on ABC News in December, she offered to provide recommendations for Sheherazad Jaafari, the president's press aide and the daughter of the Syrian ambassador to the United Nations, who was applying for a job at CNN and admission to Columbia University's School of International and Public Affairs.
Ms. Walters issued a statement on Tuesday expressing regret for her actions, which she called "a conflict."
Ms. Jaafari, 22, who has been accepted by Columbia, had worked as an intern at Brown Lloyd James. Last year, she expressed her feelings about the Assad family in an e-mail to Mike Holtzman, a partner at the firm who, according to his online profile, advised the Clinton administration on trade issues and worked in the State Department during the Bush administration.
"I have always told you — this man is loved by his people," Ms. Jaafari wrote in the e-mail, which was obtained by the British newspaper The Guardian. Mr. Holtzman replied: "I'm proud of you. Wish I were there to help." Mr. Holtzman did not respond to numerous requests for comment.
The Assads were in many ways ripe for celebrity treatment by the news media. The president, who was trained as an ophthalmologist, received part of his education in Britain, where he met his wife, a Briton of Syrian descent who grew up in London and worked as an investment banker in New York.
Andrew Tabler, a Syrian expert with the Institute for Middle Eastern Studies in Washington who once worked for a charity sponsored by Mrs. Assad, summed up the appeal the Assads had for some news outlets: "He speaks English, and his wife is hot."
The campaign to make the ruling family the face of a more Westernized and open Syria began in 2006, when Mrs. Assad approached the public relations firm Bell Pottinger in London.
Tim Bell, a co-founder of the firm and a former media adviser to Margaret Thatcher, said Mrs. Assad contacted the firm after several first ladies, including Laura Bush, began to hold annual meetings and conferences.
"She wanted to be a part of that club," he said in a phone interview.
Bell Pottinger did not set up interviews for Mrs. Assad directly, but advised her on how to set up a communications office in Damascus to help shape her image.
A few years later, positive articles began to appear. Paris Match called Mrs. Assad an "element of light in a country full of shadow zones" and the "eastern Diana." French Elle counted her among the best-dressed women in world politics, and in 2009, The Huffington Post published an article and fashion slide show titled "Asma al-Assad: Syria's First Lady and All-Natural Beauty."
"She responded beautifully, because she speaks well and is beautiful," said the Italian writer Gaia Servadio, who worked for Mrs. Assad in Damascus. She added that Mrs. Assad hoped the coverage would deflect some of the negative attention her country had received.
None of the articles about Mrs. Assad struck a nerve quite like the 3,200-word March 2011 profile in Vogue titled "A Rose in the Desert." In it, the writer, Joan Juliet Buck, called Mrs. Assad "the freshest and most magnetic of first ladies."
In a phone interview, Ms. Buck said that shortly after the profile was published, she began "steadily speaking out against the Assad regime," including in an interview with Piers Morgan on CNN and elsewhere. In April, on National Public Radio, Ms. Buck said she regretted the headline that Vogue put on the article. But she said Mrs. Assad was "extremely thin and very well-dressed, and therefore qualified to be in Vogue."
This spring, the magazine removed the article from its Web site. On Sunday, Anna Wintour, the editor of Vogue, issued a statement about the article saying, in part: "Like many at that time, we were hopeful that the Assad regime would be open to a more progressive society. Subsequent to our interview, as the terrible events of the past year and a half unfolded in Syria, it became clear that its priorities and values were completely at odds with those of Vogue. The escalating atrocities in Syria are unconscionable and we deplore the actions of the Assad regime in the strongest possible terms."
Even among the world's most repressive governments, Syria stands out in its treatment of journalists. The only way for many reporters to cover news emerging from the bloody crackdown on dissidents is to sneak into the country — often putting their lives at risk.
According to the Committee to Protect Journalists, 13 reporters have been killed in Syria since November, including Marie Colvin, a veteran war correspondent from Long Island. (Anthony Shadid of The New York Times died of an asthma attack during a clandestine reporting trip to Syria.) Syrian officials have denied targeting journalists, but state media outlets have said that foreign reporters killed in Syria "must be spies or have links to terrorist organizations."
Ms. Walters, who has a lifetime of experience chasing and winning interviews with world leaders, said she spent six years establishing a relationship with the Syrian ambassador to the United Nations, Bashar Jaafari, including once dining at his home.
The connection eventually paid off. "Assad decided he would do an interview; according to the ambassador, he had requests from all over the world," Ms. Walters said in a telephone interview last week. "And he chose to do it with me, based on the recommendation of the ambassador, and also because I had been to Syria twice before and knew something of its background and history."
Joel Simon, executive director of the Committee to Protect Journalists, said this kind of interview is highly sought after. "In a strange way, political leaders, presidents and prime ministers who are highly repressive and restrictive are good 'gets' for these types of interviews, precisely because there's no fair media coverage in their countries," he said.
Ms. Walters' interview, broadcast in December, made worldwide news, with Mr. Assad issuing claims that he was not responsible for the Syrian military and that people were not being killed by his government.
Ms. Walters said, "I went to Syria and conducted what was a very tough and strong interview that President Assad did not like."
But her offer of help to the ambassador's daughter has cast a shadow on that interview. Two people close to Ms. Walters said she had reacted to a plea from Ms. Jaafari for help because Ms. Jaafari was being removed from her position as a media adviser to the Syrian president.
Mr. Tabler said that he didn't "find it surprising what Walters did for her." The issue, he said, was the timing.
"At that point, how many had been killed — 7,000?" he said. "This is an attractive young woman, and she speaks English. Maybe you help her with an introduction. To get beyond that is a little difficult to swallow."
23 articles in the past month
navanavonmilita
All Recommendations
| | | |
| --- | --- | --- |
| | 1. | MAUREEN DOWD |
| | 2. | |
| | 3. | Green |
| | 4. | News Analysis |
| | 5. | |
| | 6. | Fundamentally |
| | 7. | |
| | 8. | PAUL KRUGMAN |
| | 9. | Bits |
| | 10. | |
Inside NYTimes.com
| | | | | | | | | | | | |
| --- | --- | --- | --- | --- | --- | --- | --- | --- | --- | --- | --- |
| | | | | Opinionator: We're learning about the world without experiencing it up close in all its majestic detail. | | | | | | Editorial: Over the last few years, federal courts have found that the act fails to meet the most elementary test of constitutionality. | |
Syria Resembles Bosnian Conflict in 1990s, U.K.'s Hague Says
By Glen Carey – Jun 11, 2012 4:08 AM ET
The conflict in Syria has started to resemble the sectarian war in Bosnia as the country edges toward collapse, Britain's Foreign Secretary William Hague said.
"It is looking more like Bosnia in the 1990s, being on the edge of a sectarian conflict in which neighboring villages are attacking and killing each other," Hague told Britain's Sky News yesterday. "It is not so much like Libya last year, where of course we had a successful intervention to save lives."
The international community remains reluctant to use force in Syria, where the United Nations estimates more than 10,000 people have been killed. Russia has cited the North Atlantic Treaty Organization's military intervention in Libya as an example of what is sees as the abuse of UN resolutions to bring about a change of government. President Bashar al-Assad has repeatedly blamed the violence on terrorists and foreign forces seeking to undermine the state.
Syrian security forces killed nine people today, Al Arabiya television reported. Fifty-three people were slain by Syrian security forces yesterday, the Local Coordination Committees, an activist group, said on its website.
"International unity" is the only way to end the violence, Hague said.
In the 1990s, U.S., U.K. and French troops were part of a NATO force that intervened to end the conflict in Bosnia- Herzegovina, scene of the greatest carnage in the Balkan wars. The bloodshed in Bosnia was the worst in Europe since World War II and included the massacre of 8,000 Bosnian Muslims at Srebrenica in 1995.
To contact the reporter on this story: Glen Carey in Riyadh at gcarey8@bloomberg.net
To contact the editor responsible for this story: Andrew J. Barden at barden@bloomberg.net
Iran warns Moscow nuclear talks could stall
An Iranian negotiator warned Sunday that this month's talks in Moscow over Iran's nuclear program could stall because of faulty preparation.
Ali Bagheri, Iran's No. 2 nuclear negotiator, said advance talks were agreed on to clarify the agenda for the Moscow round, set for June 18-19.
The official IRNA news agency said Bagheri made the complaint in a letter to senior EU official Helga Schmid on Sunday.
Concerned that Iran might be aiming toward nuclear weapons, the West wants to stop Iran's 20 percent uranium enrichment program. Western experts say it would not be difficult to upgrade 20 percent enriched uranium to weapons grade. Iran insists its nuclear program is peaceful.
In exchange for discussing enrichment, Iran wants the West to ease sanctions.
President Mahmoud Ahmadinejad recently said the West needs to explain what meaningful concessions it will offer to Iran in return for a halt to 20 percent enrichment.
"If some want us to forgo this right, they should first give their reasons, and secondly (disclose) what they will give the Iranian nation in return,'' he said.
Schmid has indicated there is no need for preliminary talks. The EU official said the six-power proposal at the Baghdad talks addresses "our key concerns on the 20 percent enrichment activities.''
"The next round of talks in Moscow will be successful provided that deputies and experts are able to prepare a specific agenda on the basis of Iran's proposals and those of 5+1,'' IRNA quoted Bagheri's letter as saying, referring to the five permanent members of the U.N. Security Council and Germany.
"If agreements at each round of talks are not pursued by deputies and experts in an appropriate manner, what will be the guarantee for success of the upcoming talks,'' IRNA quoted Bagheri as saying.
© 2012 NY Times Co.
Syria's problems, whatever they may be, are not US problems, whatever they may be.
The political wisdom, whatever that may be or not be, calls for patience, not patriotism, aka, jingoism. Wars and foreign wars have been (always) destabilizing for the world, including but not limited to USA.Stay away, Uncle Sam.Or else.
…and I am Sid Harth@webworldismyoyster.com
Political moves fail to quell bloodshed in Syria
By the CNN Wire Staff
updated 4:48 AM EDT, Mon June 11, 2012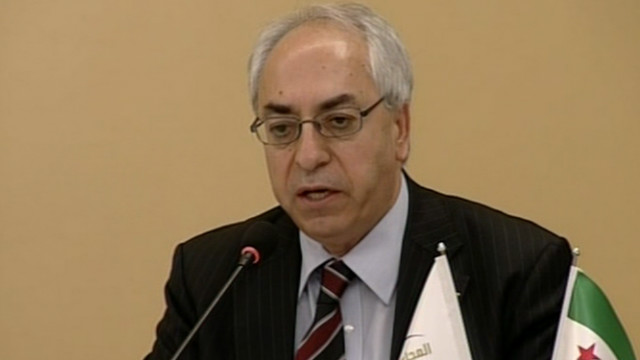 Who is Abdul Basit Sieda?
STORY HIGHLIGHTS
Regime forces shell cities across Syria on Monday, opposition activists say
Key opposition group elects minority Kurd as president, signaling efforts to unite factions
The Syrian regime blames an al-Qaeda linked group for deadly attacks in Damascus
(CNN) — Despite fresh political maneuvering on both sides of the Syrian crisis, relentless fighting and bloodshed raged on Monday, as a peaceful resolution appeared to be a mere fantasy.
In the eastern province of Deir Ezzor, at least two people were killed and dozens injured after regime forces shelled of the cities of Deir Ezzor, Mohsin, Shaheel and Ashara, the opposition Local Coordination Committees of Syria said Monday.
Across the country, government forces launched renewed shelling on the anti-regime hotbed of Homs, the LCC said.
Over the weekend, the opposition Syrian National Council elected minority Kurdish activist Abdul Basit Sieda to unite dissidents aimed at ousted Syrian President Bashar al-Assad.
Sieda, a native of Hasaka, Syria, but now living in Sweden, called on officials in Syria, Russia, and China "to think carefully about the situation now because the whole stability of the region, if not the whole stability of the world, is at stake here. We would like to call upon them to support the Syrian people."
Russia and China have blocked U.N. Security Council resolutions that many other nations said could have pushed al-Assad to halt the killing. The two countries, which have major trade ties with Syria, said they want more balanced resolutions that call for a cessation of violence on all sides.
Sieda also called on Iran "to admit the situation on the ground and respect the will of Syrians" and to prepare "for new relations with the Syrian people based on the full interest of the Syrian and Iranian people."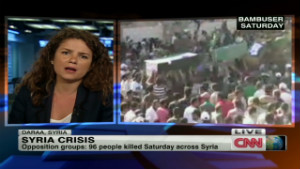 96 dead as Syria opposition picks leader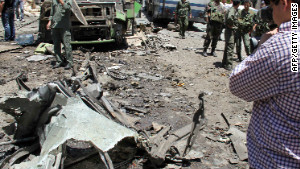 Is Syria's regime losing Damascus?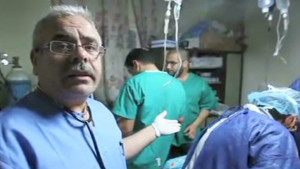 Struggle to save wounded kids in Syria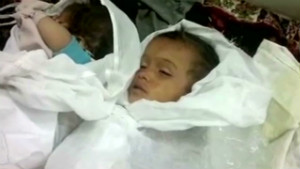 Syria: Torture, threshold for war crimes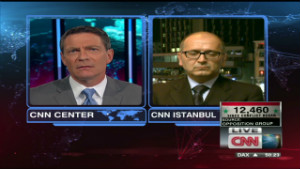 Syria on the brink
A recent draft U.N. report accused Iran of exporting arms to Syria in violation of a ban on weapons sales, a Western diplomat told CNN last month. Some analysts say Iran has continued to arm Syria in its brutal crackdown on the opposition.
Sieda vowed his country will be "a free democratic state."
Dozens of countries have recognized the SNC as a legitimate representative of the Syrian opposition, though many members of the group's leadership are expatriates.
When asked how he planned to bridge a gap between the Syrian opposition in exile and the opposition inside the country, Sieda said, "We are in direct communication and contact with revolutionary forces inside. We are always communicating with them. … The relationship between us and the forces inside has never been stronger."
But al-Assad has said he will not deal with opposition members influenced from the outside.
While Sieda railed against the violence committed by al-Assad's forces, the regime itself announced a new stage in its argument that "armed terrorist groups" are actually responsible for the violence in the country.
A "documentary" shown on Syrian state-run TV revealed "that terrorists of various nationalities from the terrorist organization Jabhet al-Nasra, which is affiliated with al Qaeda, planned and carried out" bombings in Damascus on March 8. The cars used in the attack were driven by a Jordanian terrorist and a Syrian Palestinian, "and were trailed by an Iraqi," state-run news agency SANA reported.
Jabhet al-Nasr is also known as the al Nusra Front.
SANA also said 22 "army, law enforcement and civilian martyrs" were buried Sunday.
The opposition Local Coordination Committees of Syria (LCC) said 53 people were killed Sunday, including 26 in Homs.
Among the dead was citizen journalist Khaled Bakr, founder of the Baba Amr media center, the LCC said. Baba Amr, a besieged neighborhood of Homs, came under weeks of incessant shelling by the Syrian regime earlier this year, opposition activists have said.
At a mosque in Maarat al-Numan, part of Idlib province, El Mundo correspondent Javier Espinosa said he saw six bodies destroyed beyond recognition. "They were in pieces," he told CNN.
Residents said people were leaving a mosque when a rocket hit in the middle of the street, hitting no one. As residents gathered after to assess the impact, a second rocket hit.
The rocket had Russian markings on the shell, Espinosa said.
Russia is viewed as a key ally of Syria. While Western countries have criticized Russia for its arms trade with Syria, Russia has insisted it is not propping up al-Assad's regime.
Russian Foreign Minister Sergey Lavrov said Saturday there was no alternative to U.N.-Arab League special envoy Kofi Annan's peace plan, despite mounting evidence that it's being violated daily.
"The situation looks more and more grim," Lavrov said. "For the first time since the beginning of this crisis, we see the question of foreign intervention. And our position remains unchanged. We will never agree to sanction the use of force in the U.N. Security Council."
The United Nations has said at least 9,000 people have died since the Syrian crisis erupted in March 2011. Opposition groups, however, say the toll is much higher, with estimates ranging from at least 12,000 to more than 14,000.
CNN cannot independently confirm reports of casualties or violence in Syria, as the government has restricted access by international journalists.
CNN's Holly Yan, Josh Levs, Saad Abedine and Ivan Watson contributed to this report.


© 2012 Cable News Network.
Turner Broadcasting System, Inc.
All Rights Reserved.
…and I am Sid Harth@mysistermarilynmonroe.com